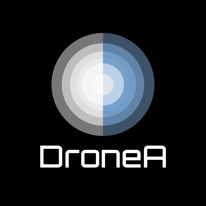 We are experts in what we do
Guided by our core values, we're a team of driven professionals who are committed to continuous improvement
Together, we embrace the challenge to push our mission forward - becoming more than the sum of our parts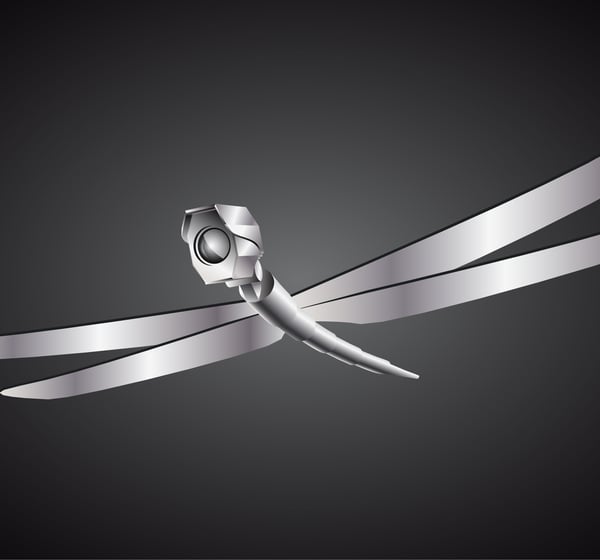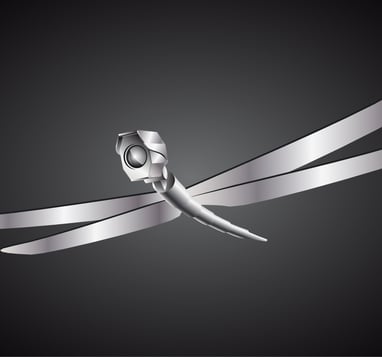 We are non-profit organization, the partnership of the leading stakeholders interested in innovative drone solutions, research and development, performance and political processes to advance a drone ecosystem.
Together with its partners and affiliates, DRONEA represents experts from across the aviation community, from civil air navigation service providers to civil airspace users, academia, and municipalities.
Membership is open to end users, manufacturers, service providers, educational institutions, investors, and relevant associations who demonstrate a passion and commitment to growing the commercial drone industry in a way that promotes safety and security.
Promote the sharing of knowledge, ideas, understanding, and expertise of drones and their likely business, economic, social, and other implications.
Provide one-stop access for all stakeholders having the interest to learn more about drone technologies or finding the right partner, supplier, or discussion counterpart.
Advocate for the IAS-related industry and users.

Facilitate activities to address the implications of the EU regulatory framework and policies for the drone service sector: research and innovation, funding instruments and influencing governmental and industrial stakeholders.
Facilitate the coordination of drone ecosystem views from and in support of its stakeholders in the framework of Single European Sky and acts as the interface with the EU institutions and related stakeholders accelerating further improve safety and efficiency, acceptance and adoption of drones.
We are an "outward-facing" organisation, effectively interacting with a wide range of stakeholders, formal and informal, working in an integrated way and having close links to their expert counterparts in other EU or multinational structures.
Provide best-in-class support to their members and customers.
IMPACT
We have a positive impact on society by supporting research, innovation, safety and security
.
PROFESSIONALISM
We build our work on knowledge and professional administration

.
COOPERATION
We all work together to ensure the best possible service to our clients. In our daily cooperation, we are positive and solution oriented, and show each other respect.
Dronea - is a member of the Informal Drone Experts Group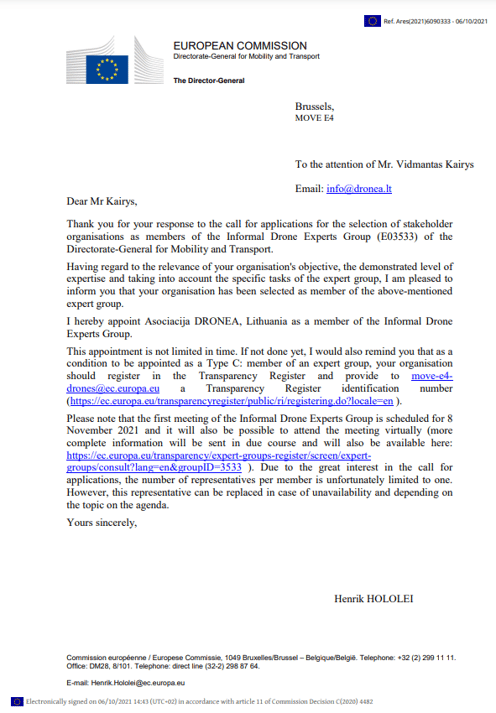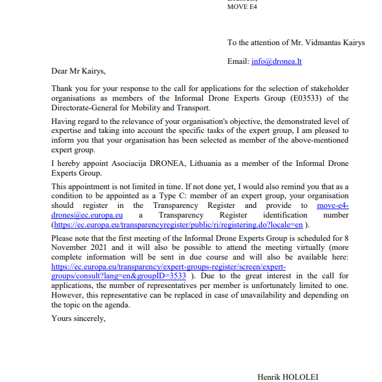 Dronea - became a part of Alliance for New Mobility Europe
Alliance for New Mobility Europe (AME ), the European association of public and private companies that aims to implement the Drone Strategy 2.0.
The association's objective is to integrate the new mobility community with sector studies and the application of new shared initiatives for an ecosystem of the Unmanned sector increasingly aware and coordinated between technological evolution and implementation of EASA regulations.
With the close collaboration of SESAR (Single European Sky ATM Research) and other European institutions, the Alliance for New Mobility Europe works to guarantee the integration process between the players in the sector and facilitate the sharing of new programs, systems and applications for advanced mobility and supporting an ever more complete maturation of the drone market.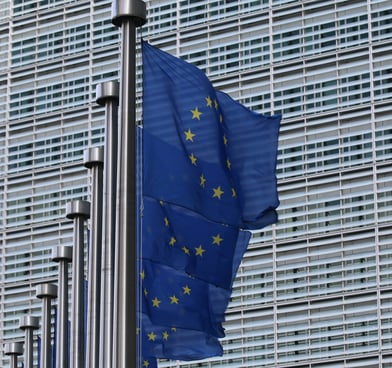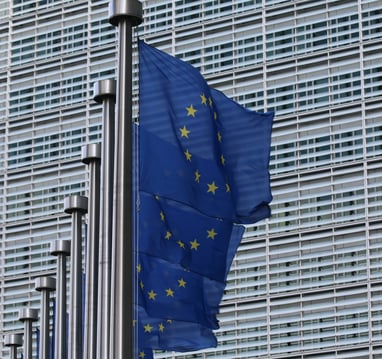 Dronea is a founding member of Joint European Drone Associations
On November 12th, 2021, six European drone-related associations gathered in Brussels to put signatures on the document creating JEDA.
The Joint European Drones Associations, a new policy-oriented partnership of European drone-related associations is established to promote the interests of the growing number of stakeholders engaged in the operation, production, research and development, service, and applications of all kinds of UAS in Europe. Currently, it unites more than 17 national associations.
Mr. Kairys, Chairman of Dronea has been elected as Vice-President of JEDA.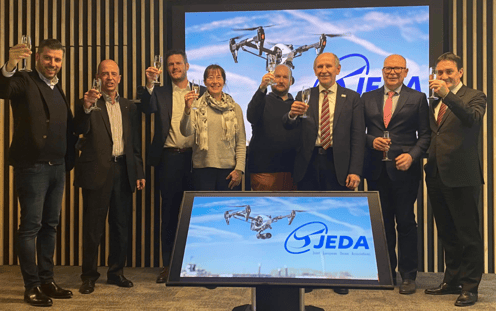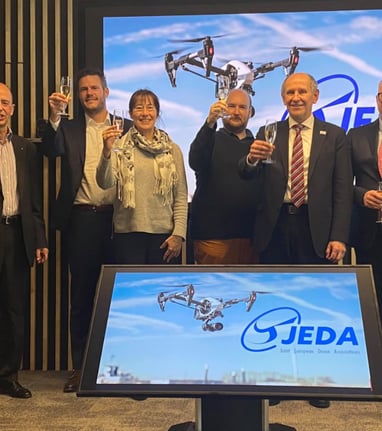 Asociacija Dronea is registered in the EU Transparency Register
The Transparency Register is a database listing 'interest representatives' (organisations, associations, groups and self-employed individuals) who carry out activities to influence the EU policy and decision-making process.
It is designed to show what interests are being represented at EU level, by whom and on whose behalf – and the resources devoted to such interest representation activities (including financial support, donations, sponsorship, etc.)
This is why the European Parliament, the Council of the European Union and the European Commission have established the Transparency Register – to enact our commitment to openness about the groups and organisations that try to influence the formulation or implementation of EU policy and legislation.
Asociacija Dronea is registered in the Transparency Register under the TR ID number 437607744336-83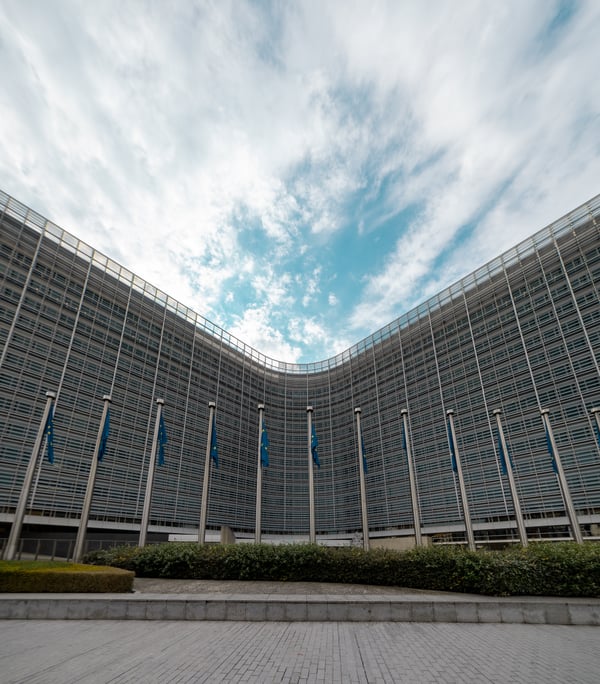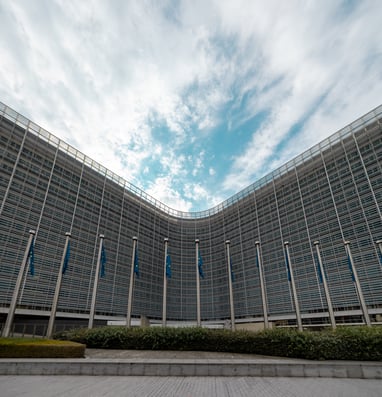 Dronea - a part of European Network of U-space Demonstrators
The network, launched by EU Transport Commissioner Violeta Bulc, dedicated to become a forum to share knowledge on how to keep drone operations safe, secure and green.
The network is a forum to share knowledge on how to keep drone operations safe, secure and green.
It focuses on "U-space": a system that connects all drones flying in the air and that makes all drones visible for authorities and citizens.
The network is run by EUROCONTROL and supported by EASA and SJU.
Joining the EU Demonstrator Network would bring the following concrete benefits for DRONEA:
Aquisition of Best Practice

Hands-on-Influence

Sharing "Lessons Learned"

Benchmarking

Assesments of Impact

Image Building

Better Regulation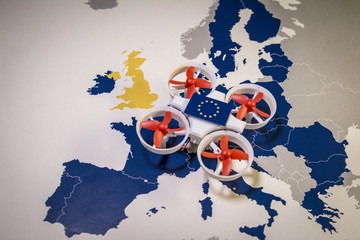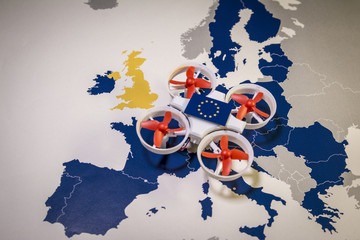 About European Network of U-space Demonstrators
Strategic Focus, 2021-2024

1.1. Work towards the development of the framework for a competitive Innovative Aerial Service market and how drones need to be operated in the Single European Sky.
1.2. Support research and development projects required for the new technologies and services of drones for commercial applications, autonomous vehicles, hyperloop, hydrogen aircraft, electric personal air vehicles, electric waterborne transport, and clean urban logistics.
1.3. Bring together under one umbrella research centers, universities, industry partners, and other entities within the ATM/aviation domain.
1.4. Promote the economic, social, and environmental objectives of sustainable development within the drone industry by improving safety and security, energy savings and the protection of the environment.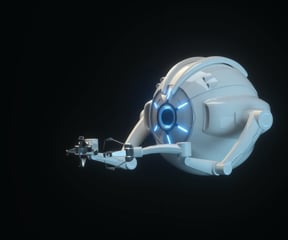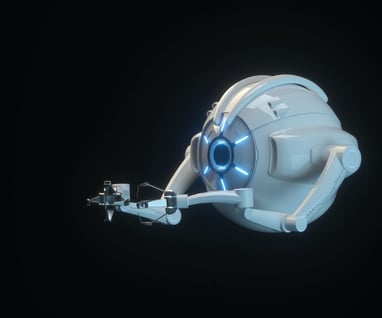 Strategic Focus, 2021-2024

2.1. Raise awareness of and build trust with any stakeholder by spreading the knowledge about drone technology, services, management and operation
2.2. Advocate on behalf of our members to shape EU aviation policy to the ultimate benefit of society.
2.3. Contribute to the development of a strong and sustainable business case for drones, sensors and their applications.
2.4. Promote equal opportunities in IAS industry, recognising diversity and inclusivity as key to the competitiveness of the industry.
2.5. Educate on the economic benefits, humanitarian gains, safe and responsible use and technology requirements of commercial drones.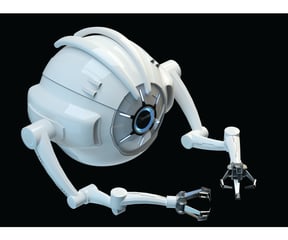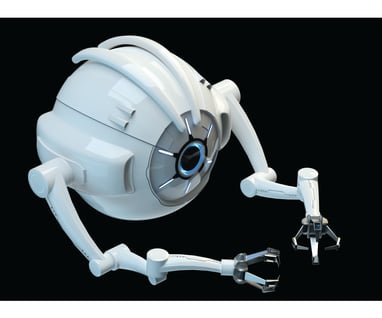 Strategic Focus, 2021-2024

3. Cooperate and Collaborate
3.1. Participate actively in international networks in order to increase cooperation opportunities.
3.2. Proactively initiate cooperation with national and international organisations regarding new opportunities and communication across the globe.
3.3. Set criteria for participation in international co-financed projects and partnerships.
3.4. Participate in international projects that involve new subjects and challenges.
3.5. Collaborate with our stakeholders and policymakers to craft policies that enable industry growth